Coming up with secure and unique passwords for all your online services is no easy task. Keeping these passwords organized is an even taller order.  
LastPass is a powerful way to consolidate that pile of sticky notes, unsecure Excel files, and hard-to-remember passwords into a central repository to simplify your Internet security.  
In this Tech Tip, I'm going to share some LastPass tips and explain how to use this tool.   
Full disclosure: Our team doesn't resell LastPass or make money by recommending it. We simply like this application and trust it for managing our own passwords.  
LastPass tips 
to keep your business secure
Before we dive into some LastPass tips, here's a quick overview of how LastPass can help your organization. This software has four key functions:  
Storing your existing passwords

 

Creating new, secure passwords

  

 

S

afe

guarding

 other sensitive data, such as credit card information

 

 

Isolating potential vulnerabilities and resolving 

them

   

 
If you're ready to leverage these benefits for your business, here are some pointers to follow.
1. Create your account and "last password ever."
At LastPass, you'll be asked to create your account and "last password ever." This password will be the key to your digital safe, the LastPass vault, where all your passwords will be contained.  
LastPass will offer some recommendations for creating a secure password. But remember, length trumps complexity.  
Creating a string of words and numbers is going to be your best bet. This credential should be unique to LastPass and NOT a password you use anywhere else. 
2. Install your password management tool. 
After you create your account, you will be prompted to install LastPass.  
This will place an extension in your browser of choice. Afterward, you'll see the LastPass plugin in your toolbar. Click on it to log in with the account you've just created. 
3. Simplify your current online logins. 
You're probably wondering how to get that pile of sticky notes with passwords sitting on your desk into LastPass.  
The answer is simple: Log in with them!  
Whenever you log into a site that LastPass doesn't recognize, it will offer to save that site to your vault. The next time you go to that site, LastPass will automatically fill in the username and password for you. 
But securely storing your existing passwords is only one facet of LastPass…  
4. Use the Security Dashboard to assess current passwords. 
Prior to having LastPass, how secure were the passwords for your online accounts?  
The Security Dashboard will tell you!  
After saving your credentials to your vault, you can check out the Security Dashboard, which analyzes your passwords and presents you with a security score.  
In the beginning, you will likely have many "at-risk" passwords. Don't panic! LastPass will show you all passwords which are either weak or duplicated and provide direct links to the service to change them. Replacing problematic passwords will raise your score, and the higher the score, the better protected your data is! 
5. Use LastPass to create more secure passwords.  
We've all struggled to come up with good passwords, and we often tend to use a good password in several places. It's convenient, but if someone were to compromise this password, they could potentially compromise EVERY place where you use it. As Steve has said before, "hackers depend upon you having the same password for multiple accounts."  
You'll avoid this pitfall with LastPass.  
When setting up an account with a new site or service, you can right–click the password creation field and choose LastPass > Generate Secure Password.  
This produces a new tab with parameters for your new password, including character length and complexity. Using this method to create passwords will automatically save them to your LastPass vault—without the need to remember them! 
6. Be sure there's a recovery phone.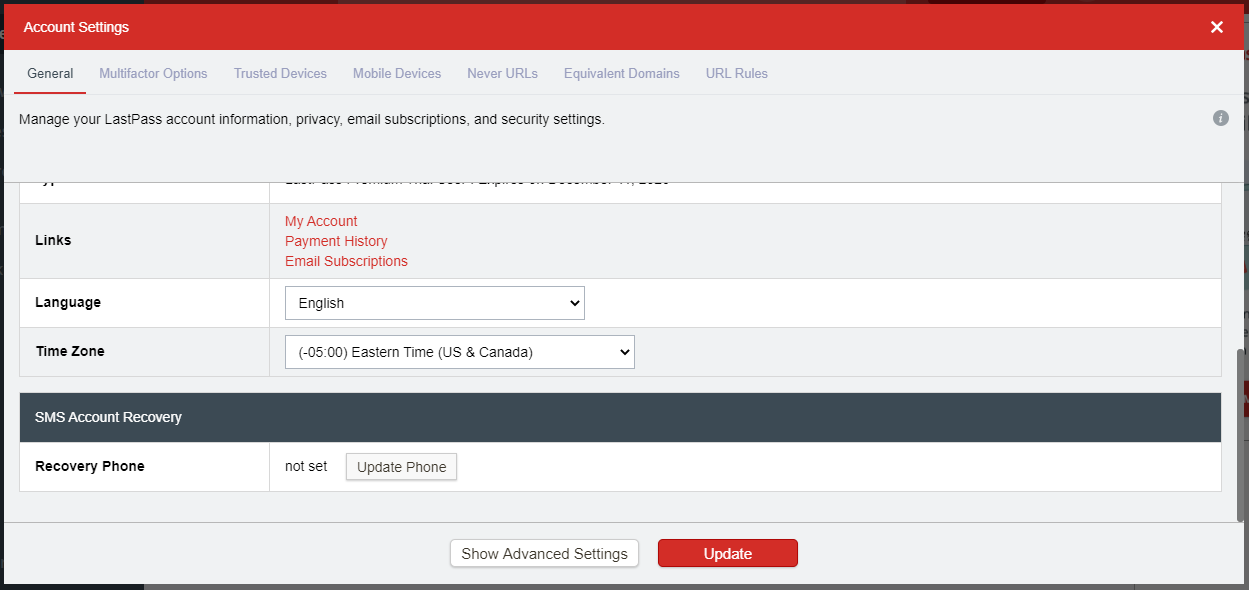 Inevitably, we all forget a password at some point.  
Forgetting your LastPass master password could be devastating. Having a recovery phone set up will allow you to regain access to your vault even if you forget your password. 
7. Implement multi-factor authentication.
As you read our LastPass tips, please don't skip over this one.  
A strong master password is a great start, but, to truly secure your account, multi-factor authentication (MFA) is a must.  
This ensures that even IF a bad actor were to get your password, the cybercriminal cannot access your vault without also having your phone.
8. Keep other credentials safe.
While storing and creating passwords are the main entrée offered by LastPass, they're far from the full course.  
Inside your LastPass vault, clicking the 'add new' icon offers a multitude of different options: Credit card details, insurance information, membership cards, bank accounts, software licenses, and even Wi-Fi networks can be securely kept within LastPass! 
9. Download the LastPass app, and enable autofill. 
Having your passwords in one place is great, but what if you're standing in the checkout line and realize you don't have your loyalty card handy? LastPass has you covered.  
All the information stored in your LastPass vault is available wherever you go with the LastPass app.   
Beyond making your vault available anywhere, anytime, the LastPass app also allows you to autofill logins on your mobile browser and even supported apps. Enable this feature in your settings, and whenever you need to log into an app or website on your phone, you'll see an icon that shows any matching logins in your LastPass vault. No more entering complex passwords on a tiny keyboard!  
Bonus tip: 
Don't assume your passwords are secure. Check for yourself!
Hopefully, these LastPass tips have helped you understand this tool a bit better.
But if you still aren't convinced that password security is a big issue, head over here for a bit of fun: https://www.security.org/how-secure-is-my-password/
This webpage tells you how long it would take for a computer to "crack" any given password. A randomly generated, 18-character password from LastPass would take 7 quadrillion years to crack. Conversely, a simple 9-character password that has some numbers but lacks complexity could be cracked in around 24 hours.
Have questions about LastPass or password management in general?
Please reach out to our team at info@weareproactive.com, or call us at 704-464-3075.
About Chuck Cannon 
As Systems Engineer for Proactive IT, Chuck assists in the planning, implementation, deployment, and management of key IT solutions for infrastructure ranging from client desktops to in-house and cloud servers. His specialization in cloud-focused Microsoft solutions and penchant for documentation have supported our team and clients during the transition to remote work and helped ensure critical systems meet best practices for the security and integrity of client systems and data.