I couldn't do my work without Microsoft Teams.  
After COVID-19 pushed us toward going remote, we began relying on Microsoft Teams for internal communication, collaboration on projects, and more. Today, this software is a go-to tool for Proactive IT.  
Maybe you'd like to implement this platform for your business. But you're struggling to find the best way to use Microsoft Teams.  
In this Tech Tip, I'll explain some principles for setting yourself up for success.   
1. Realize that y
our initial 
setup
is key.
With Microsoft Teams, the biggest factor that determines your experience is your initial setup. How you structure this platform will determine its effectiveness.  
Teams isn't simply a cloud-based replication of your onsite servers.  
It's common for organizations to dump information into server folders that are structured by alphabetical order. These folders aren't organized by department, and they could belong to anything or anyone. It's a pretty inefficient system. And if you use Teams in this manner, you'll probably get frustrated.  
When transitioning to Teams, be ready to buy into a different process. Be willing to set up your workflows in the way that works with—not against—the platform. 
2. G
eneral
ly
, the best way to use Microsoft Teams is to c
reate 
individual 
teams around 
business 
roles.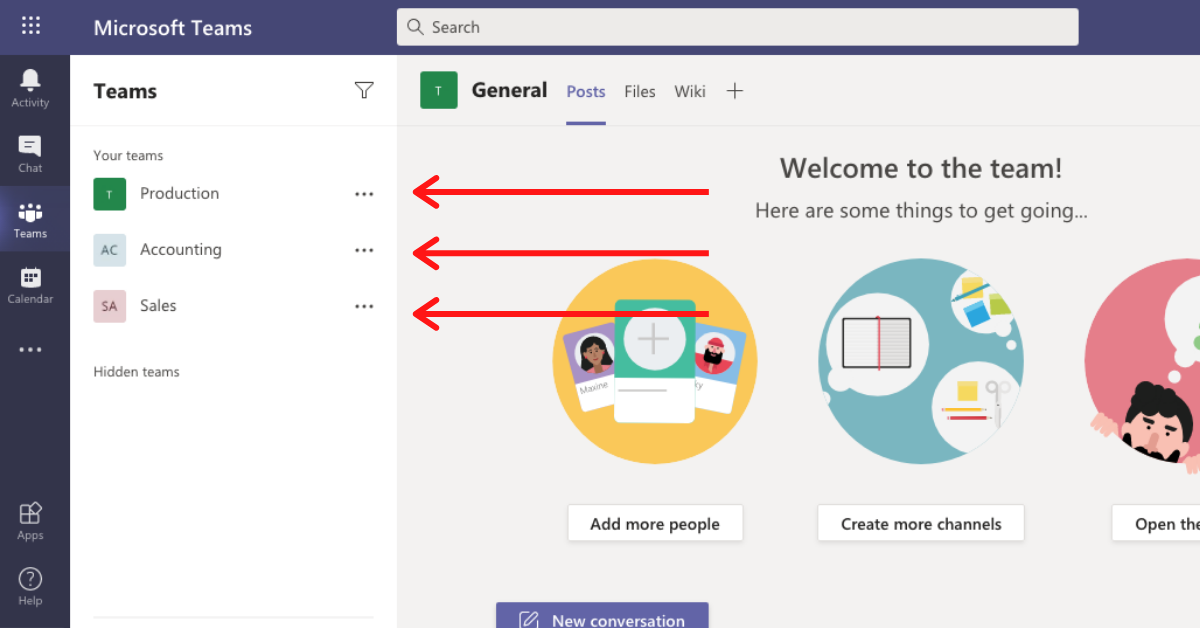 A team is a top-level organizational unit underneath your "Teams" tab. Before you begin to establish individual teams, we recommend having a professional examine how you're currently organizing your data.   
However, our general guidance is to create these teams around business roles. For instance, you might have groups titled "Production," "Accounting," "Sales," etc. for your company.  
It's a logical structure that aligns with how your business functions. And it also allows employees to quickly navigate to the right files, communications, etc. An employee won't need to dig through 47 folders to find a spreadsheet. He or she can simply ask, "What department does 'Information XYZ' belong to?"  
3. Create 
channels 
that fit y
our 
company's
distinct 
characteristics.
A channel is a second-tier organizational unit that's located underneath an individual team.   
It's important to know that your business model can affect which channels you establish. The best way to use Microsoft Teams will depend on what kind of company you are.  
If you're a professional service firm (e.g., law practice, accounting group, etc.), you may want to structure your channels by clients. For example, let's say you're a law firm that works from home and specializes in intellectual property, and you have a handful of long–term retainer clients. You might create a copyright team and then establish a channel for each client needing copyright-focused services.  
But what if you only have one major client? Or what if you're in a transaction-based (versus client-centric) industry? In a situation like one of these, you may need to structure your channels by tasks. For instance, if you're a manufacturer, your quality assurance (QA) team could have channels titled "Product X Testing," "Product Y Testing," and so on.  
Tip: Did you know that you can tag an entire channel in a Microsoft Teams calendar invite?  
This is very helpful for businesses. If you have a meeting about "Client A," it's easier to tag your "Client A" channel than to remember the email addresses of everyone involved.  
Of course, taking advantage of this feature depends on a proper setup. I encourage you to invest the time needed to determine the best way to use Microsoft Teams for your company. If you are currently working in the cloud or considering moving to the cloud, the long-term gains are well worth it.  
4. Migrate your data to the appropriate 
teams/
channels.
Once your teams and channels are properly structured, it's time to place your server data into Microsoft Teams. Please work with your IT provider for the initial migration of your data; we never recommend that end users try to migrate on their own. 
Be prepared for this to take some time. You may need to comb through your files to see what logically belongs where. Remember, the goal isn't to recreate your server's organization.  
Before you upload a folder/file, analyze how it fits into your new Microsoft Teams arrangement. Consider which team members will need this data for their job responsibilities.            
5. En
sure 
that 
c
hat
 groups
reflect your 
busines
s
 structure
.
A chat is where employees can text, share files, etc. Please note that chats are located outside of your teams and channels. (Within a channel, the communication feature is called "Posts.")  
While chat groups might seem unimportant, they're not.  
In fact, you'll want to build these around your organizational structure. This can keep conversations and file sharing centered around specific responsibilities/roles.  
Need help determining 
the best way to use Microsoft 
Teams for your 
business?
Hopefully, this article will help you get started with Microsoft Teams.  
At the same time, I realize that the process of transitioning to Teams, while better in the long run, can feel overwhelming.  
If you want expert assistance for analyzing your company and finding the best way to use Microsoft Teams, we can help.  
Send your questions to info@weareproactive.com, or call us at 704-464-3075 extension 3.    
About Brad Link

 
Brad serves as our Senior Network Engineer and technical team lead. He designs and implements numerous IT solutions, and our clients benefit from his expertise in networking, cybersecurity, Microsoft products, and more. While you might find him conducting virtual CIO work or product research, he spends a good chunk of his day answering everyone's questions about everything.